It's a bit early to post my top music picks of 2010 , but I've been adding to the list throughout this past year, and it's already grown to ten albums. Compared to the last two years' Top 5 lists, that's a lot, so I'm going to post it now.
No surprise that the jazz pianists are well represented here. Recently I got interested in the Hammond B3, which also shows up. Several of the selections lean towards rich harmonic, evocative soundscapes. Harmonic complexity is one way that musical ingenuity expresses itself, not always in fast bebop lines or modern polyrhythms. This is some of the most beautiful music I have ever heard.
I should mention that a limited private edition CD by my musical mentor, the great Canadian jazz pianist
Brian Browne
, called the Erindale Sessions, is perhaps the album I treasure most from 2010. Although I don't believe this album is available for sale at this time, many of Brian's other albums are.
So here, without further ado, is my Top 10 list of albums for 2010.
Bill Evans - Consecration
The Consecration albums were recorded shortly before Bill Evans' death in 1980. He was ravaged by addiction and in failing health. Joe LaBarbera said he could barely make it to the piano, but when he did, this incredible powerful energy just erupted out of him. It's like he sensed that he was at the end, and he had to get it all out, to put down everything he had on that last recording. Bill Evans played like never before on these recordings. They are very special.
Billy Childs - Lyric
Winning a Guggenheim Fellowship in music composition in 2009 is a testament to the talent and creativity of Billy Childs. A mostly self-taught pianist and composer, Childs is one of those rare, gifted artists who seems destined to shape the future of jazz. Blending classical, rock and jazz influences, this recording features a unique ensemble of instruments for which Childs scored compositions in a style he refers to as "orchestral jazz". Its a brilliant recording.
Chick Corea - Solo Piano: Standards
One of the most versatile jazz pianists on the scene, Chick has recently been touring with Return to Forever, the jazz-rock group he rose to fame with in the 70's. Chick really is one of the greatest. His work with Return to Forever and the Electric Band often come to mind, but it's his reinterpretations of jazz standards on solo piano that I really enjoy.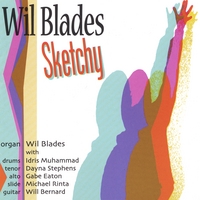 Will Blades - Sketchy
The great jazz organist Jimmy Smith is credited with having put the Hammond B3 on the map as a real jazz instrument. That tradition has been carried on by Dr. Lonnie Smith, Tony Monaco, and several others. But I think Will Blades is the guy who has picked up the tradition and is breathing new life into the B3. His tube-driven Hammond organ trio sound grooves. He's obviously picked up some killer chops from his predecessors, and he's got the jazz Hammond sound nailed, but at the same time it's fresh and funky, and cool people dig it.
Fionnuala Ni Chiosain - The Eclipse
The movie "The Eclipse" was a strange piece of work - a cross between romance and a ghost story. The music is haunting. There's an edginess to this music, a sort of frantic longing that lies dormant under compositions reminiscent of Gregorian chant. After watching the movie, I immediately went out and bought the soundtrack.
Jamie Cullum - The Pursuit
The lines between pop and jazz are blurred in a lot of Jamie Cullum's recordings. He plays and sings old standards and original compositions alike with the same belligerent rock-star attitude and two-fisted piano chops. This album is a slickly produced number that has seen a lot of rounds on my CD player this year.
Molly Johnson - Lucky
This is another one of those albums where I heard a track on the radio and knew I needed to have it in my collection. Molly Johnson is great, and she deserves to be on any jazz-oriented Top 10 list of contemporary artists. But also, her band on this album absolutely
cooks
! This album is tons of fun and a great one for people who are new to jazz and need a singer to guide them through the tunes, or the casual listener who wants to set a sophisticated mood.
Soundsystem 01 (Mixed by Hybrid)
Don't know much about Hybrid, except they come from the UK, they make electronic music, and this remix album is excellent. It's a double-length epic that starts out with cinematic orchestral-style works and slowly builds into a full on progressive house / trance. This is a great album for when you're doing programming or any other kind of work that needs focus and concentration.
Ralph Towner & Paulo Fresu - Chiaroscuro
One of the great discoveries from the Ottawa International Jazz Festival this year was the duo of Ralph Towner and Paulo Fresu. Towner, of Oregon fame, is an amazing guitarist and composer whose music floats somewhere between jazz and classical. Years of wisdom seem to echo through his thoughtful guitar work. Trumpet might not seem like an obvious pairing, but Paulo Fresu's playing here is simply gorgeous. The audience was enthralled and the CDs sold out after the concert, understandably. It is one of my very favorite albums of 2010 and it will remain so.
Eric Whitacre - Whitacre: Cloudburst
Eric Whitacre has basically come along in the world of choral music and torn up any preconceptions of stuffy old choir music and replaced them with something totally new and compelling. It's not adequate to say this music is beautiful. Words can't describe it. What comes to mind is Middle Earth, with Elven choirs singing in the forests of Lothlorien, music that's strange and beautiful and seldom heard by the ears of mortal men.